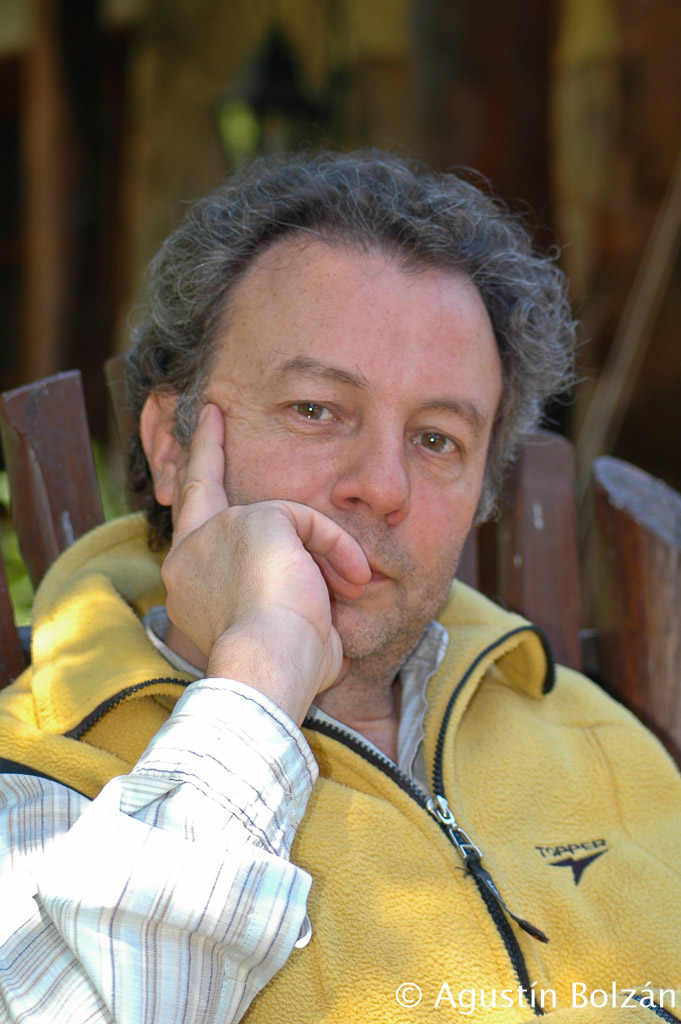 Nacido en la ciudad de La Plata, vivo actualmente en la localidad de City Bell. Me recibí de doctor en Ciencias Químicas en la Universidad Nacional de La Plata con un post-doctorado en la Universidad de Bonn (Alemania).
Soy en esencia un fotógrafo autodidacta que con el correr del tiempo sigue aprendiendo de los maestros de la fotografía, especialmente de aquéllos relacionados con la naturaleza. En un mundo donde hay una creciente avidez por el confort en las urbes y un gran descuido por los recursos naturales, surge la necesidad de transmitir la belleza del mundo natural desde la pequeñez de una flor o un pájaro, hasta la imponencia de una montaña o un valle. El objetivo de mi fotografía es, en esencia, compartir esas sensaciones únicas del ser humano frente al mundo natural y, tal vez, provocar un momento de reflexión sobre nuestra pequeñez y responsabilidad en este mundo.
Siendo la Argentina mi hogar, mis imágenes son fundamentalmente de ella, siendo mis lugares favoritos los Esteros del Iberá y la Patagonia. Ello no quita que también disfrute con las imágenes de rincones de pueblos y ciudades. Mis imágenes no son sino recuerdos de momentos que me impactaron de alguna manera y desearía seguir recordando, tal vez una pared de mi hogar. Pasé a la fotografía digital 2008 con la aparición de la Nikon D300, encontrando que las cámaras digitales nos otorgan hoy día un extraordinaro abanico de posibilidades cuando nos encontramos fotografiando.
La fotografía de la naturaleza es un buen ejercicio en cuanto a las virtudes de la paciencia, cuando esperamos el momento preciso para una imagen que intuimos en nuestra mente, y de la contemplación, cada vez que nos detenemos a admirar esa imagen del mundo que nos rodea y que deseamos conservar con nuestra cámara. Pero el momento de mayor disfrute es justo aquél previo a la captura de la imagen, cuando sentimos en plenitud la belleza de lo que contemplamos y queremos seguir recordando, es eso que conmueve a nuestro espíritu. Lo que le sigue....es el sonido seco del botón de disparo.
I was born in La Plata and currently live in City Bell (Argentina). I received a Ph.D. in Chemistry at the National University of La Plata, with a post-doc at the University of Bonn (Germany).
I am a self-taught photographer that continues learning from the masters of photography, particularly those related to nature photography. In a world that eagerly demands for comfort in the cities and neglects the care of natural resources, arises the need of showing the beauty of the natural world from the smallness of a flower or a bird to the greatness of a mountain or a valley. The purpose of my photography is in essence to share those unique feelings of the human being facing the natural world and, perhaps, provoke a moment of reflection about our place and responsibility in the world.
Being Argentina my home, my primary focus is here and among my favourites places are Esteros del Iberá (Ibera Marshes) and Patagonia. However, I also enjoy myself capturing pictures of corners of cities and villages. My photography is nothing but memories of those moments that caught my attention and I would like to remember, maybe on a wall at home. I moved to digital in 2008 when the D300 was released and found that digital cameras can give us a lot of new possibilities when on the field.
Nature photography is certainly a good training in the virtues of patience, when we are waiting for that precise moment of the picture we foresee in our mind, and contemplation, every time we stop to contemplate and admire that image of the world that we want to catch with our camera. The moment of greatest enjoyment is just that immediately previous to the capture of the image, because it is when we feel the plentiful of the beauty of what we are contemplating and want to continue remembering. That is what really moves our soul......what comes after, is just a click of the shutter-release button.